We conceptualize our organization with students at the center.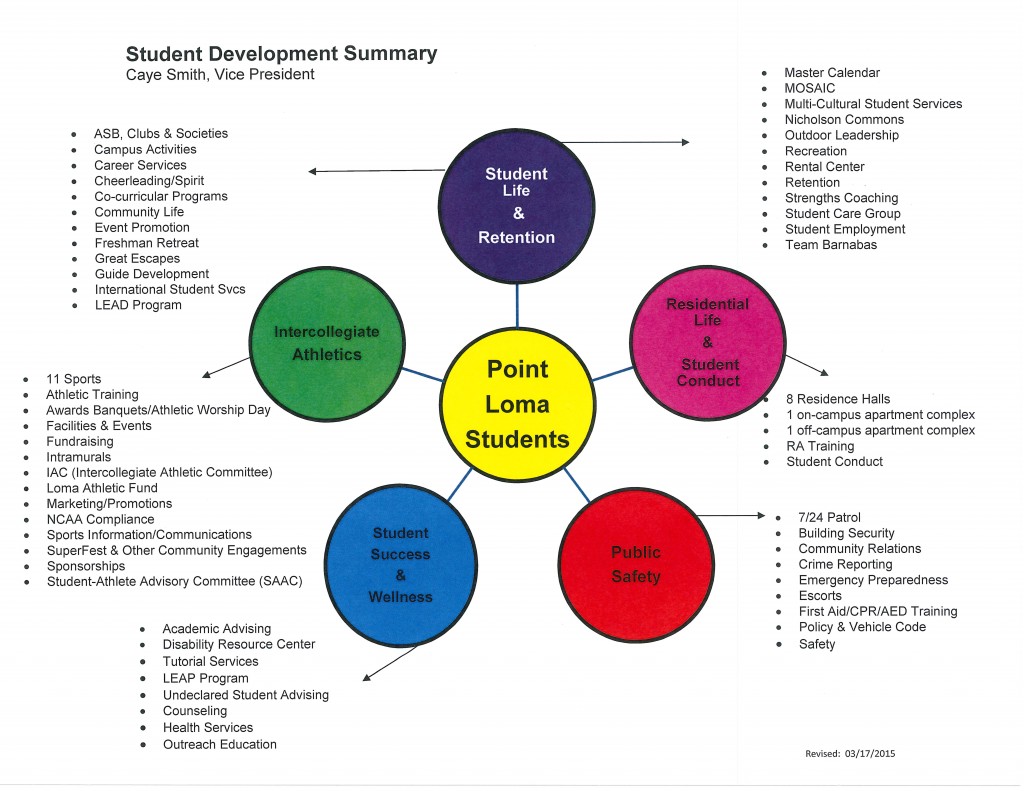 This more than a symbolic gesture. It is a statement that the Office of Student Development exists to support and enhance the experience of each undergraduate student
Each organizational unit within Student Development is interdependent and works collaboratively at a deep level with other units. This level of collaboration is time intensive, but it serves the student most effectively.
Our decision making style is consultative. While each professional has unique skills and expertise, no one person is equipped to make the best judgment in every situation. We consult liberally when making impactful and complex decisions.
We are grounded firmly in the mission of PLNU. All policies, practices and interactions with students flow intentionally from mission.
PACWEST SPOTLIGHT: POINT LOMA'S BANNER YEAR
The 2014-15 season will certainly be one to remember for the Point Loma Athletic Department. In its first year as a full NCAA Division II member, the Sea Lions achieved unprecedented goals, both in the region and on the national stage. Conference championships, NCAA appearances, historic upsets and national accolades provided a glimpse of what the future holds for PLNU.
PacWest TV host Wayne Coitomade a trip to the campus by the sea to reflect on this historic season with Point Loma Athletic Director Ethan Hamilton, women's basketball head coach Bill Westphaland women's soccer goalkeeper Ariel Oriarte. The Sea Lions are proud of what they accomplished in 2014-15, and even more excited about their future in the NCAA. — ThePacWest.com
Show your SEA LION PRIDE by passing this email along and sharing the video on your personal social media pages!
For all things Sea Lions including game schedules, community engagement, student-athlete bios, athletic facilities, and much more visit PLNUsealions.com
Archive